August already? Where has the year gone!
The wheels keep turning here at MyTrucking as our team works hard to bring you a product that can truly make a difference to people and their businesses. Read on to find out what's new at MyTrucking, the latest product updates, and what the team has been up to.
1. New Roles for MyTrucking team members
We love it when our team members progress within the business, and recently Natalie Beckham and Nikola Berryman stepped up to new roles in MyTrucking. Nikola has stepped up to the Head of Customer Success role. She will be looking after the sales and support team to ensure support remains top notch, and the onboarding process continues to improve.
2. MyTrucking Resources Hub
You may have noticed a few changes to our website, including a revamped homepage, and a brand spanking new resources hub.
The resource hub is designed to support our MyTruckers, with plenty of good articles and blogs on hot topics for transport. For other news checkout our News Page for ongoing updates.
3. Product Update
So what's our Top 5 picks lately on the product side…..
Show/hide ticked invoices on invoicing pages
New Add Location
Quickbooks online export for invoicing
Xero wizard enhancement for mobile users
Location based rate cards in beta trial
And, what's coming next in 2022…
Refreshed mobile app with lots of new features. (Out of range update, Attach multiple images, pull down refresh, individual job accept, sort by pickup & delivery times)
Updated M2X export/import integration
Bulk accept of imported jobs
Open invoicing API
Editable consignment notes
Client attachments
4. On the road with MyTrucking
We're loving being able to get out and about again. The MyTrucking team has been busy clocking up the miles and attending events around Australia and New Zealand. Nikola and Sara attended the Livestock & Bulk Carriers conference in Wagga Wagga NSW in June and loved catching up with you all. In New Zealand, the team was recently at the EROAD fleet day in Hamilton.
This week, Nikola Berryman and Matt Neems are heading to Bendigo to attend the LRTAV conference. Matt is also road tripping around Melbourne this week.
Team members will also be out at the NZ Trucking Industry Show in Christchurch in November, so come and say hi if you're there.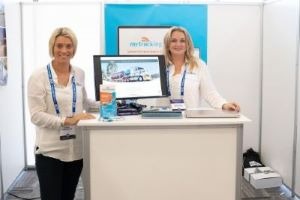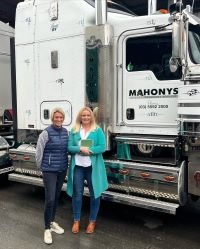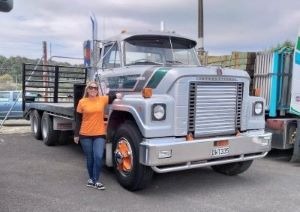 5. GPS Tracking partnerships
Did you know we integrate with both EROAD and Navman? Both have unique integrations with MyTrucking.
EROAD: MyTrucking has the activity and revenue data for every vehicle in your fleet. Combine this with the distance and time data from EROAD and you have what you need to ensure you know exactly how your fleet is performing but more importantly…where it is not performing. MyTrucking jobs updated in Eroad every 10 mins.
Navman: Our MyTrucking app is bundled on the new Teletrac Navman MT201 devices. MyTrucking is the only job management software app that is available for use pre-loaded onto the in-cab device. This means you don't need your drivers to use their own phones, or supply them with one to use the MyTrucking app – it's all there in one place.
6. Refer a Mate
MyTrucking is all about family. It's thanks to our MyTrucking family – (that's you) – that we're here!
For each new mate that you refer and who signs up to MyTrucking, we'll send you a gift – handpicked by one of our family and sent to you. We've got beer, wine, food, coffee mugs and vouchers on the shelves ready to go! There's no limit on the gifts we'll send – when a mate of yours joins the MyTrucking family, it will be on its way to you.
If you know a mate that needs MyTrucking, please click below and we can get the ball rolling!
Thanks again for your continued support.
Happy Trucking!
Kind Regards,
Click here to visit our new RESOURCES HUB