Try MyTrucking FREE for 14 days!
MyTrucking is a job management system for your transport business.
Get full access, free mobile app, unlimited users, free online training and support!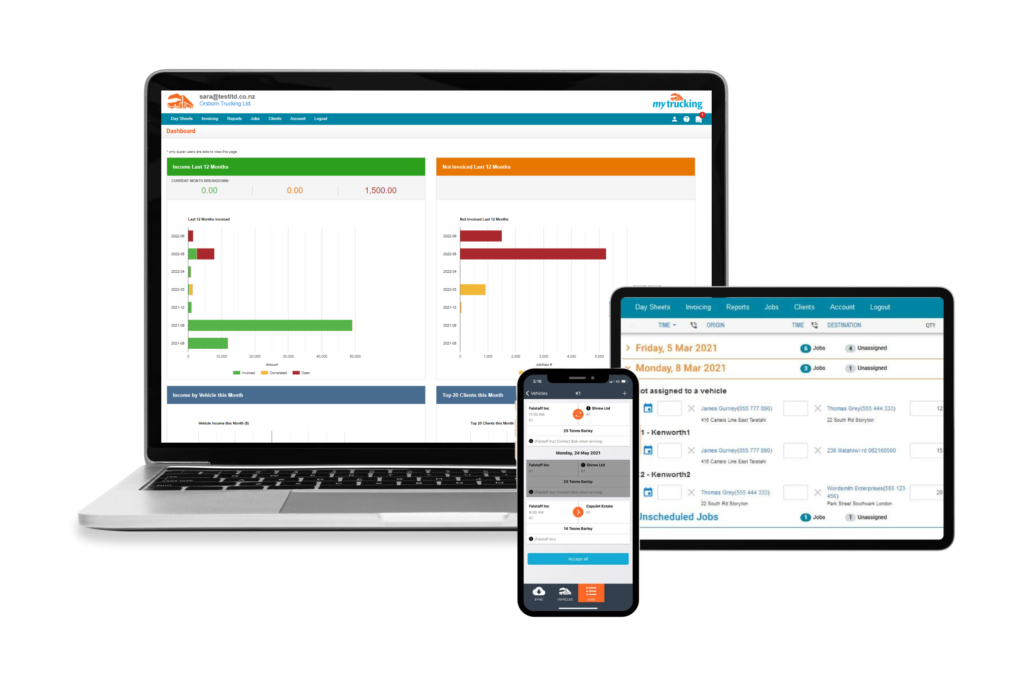 Is MyTrucking right for you?
MyTrucking is designed to assist transport operators with job management workflow.
The 5 Star Transport Management Software
MyTrucking works hard to ensure that our customers are supported and delighted, which is reflected in the amazing reviews we receive
Your Attendant
★★★★★
My Trucking is a great product. We have been using it for three years and love it
Graham Marshall
★★★★★
We have been using My Trucking for almost 4 years now, we went from hand written dockets to using My Trucking and have found it to be a huge time saver, My Trucking is a great way to keep track of your transport sales and getting on screen POD when using the Mobile App. The My Trucking team are always fast to respond to questions. Their customer service is amazing. Thanks Team My Trucking!!! From Urgent Cool Logistics
William Newport
★★★★★
Hi I find MyTrucking app to be quite easy to use even for someone who isn't computer literate like myself but I can navigate around fairly quickly , So if Ican use it anyone can.
Mike Trainor
★★★★★
I have been with My Trucking for a couple of years now. To say it was awesome would be an understatement. The staff response to any questions you may have are very quick. I am in Australia, they are in New Zealand and you wouldn't know it. The features of the app can be moulded to any business, get it setup with your products and services and watch it go. The reporting at Management level so you can see how you are travelling at anytime is a must. I have always thought it was great but they just keep adding new features to make it even better. In my opinion if you are not using it you are truly missing out. Get on board you have nothing to loose and everything to gain.
Lorrice Richards
★★★★★
We have only started with MyTrucking this year but WOW! what a difference it has made to our everyday logistics scheduling. The integration with Xero makes invoicing very easy. And we are never missing dockets or having to wait for the paper dockets from drivers for a week after end of month!Very easy App for all drivers to use.The support from the team has been amazing with any questions that we have had, very accommodating.ThankyouWheatbelt WA.
Amy Throckmorton
★★★★★
At TGR Transport, we use MyTrucking for everything we do. It makes our business simpler, smoother and the drivers love it too. Extremely capable and integrates well with other tracking/accounting software. Cannot recommend highly enough.
Nationwide Livestock
★★★★★
Corey Harrison
★★★★★
Great website, great App, very easy to use and it has been a great part of our business now. Never miss a load. Thanks MyTrucking
Sasikumar Thurasingam
★★★★★
Admin Transport Rangiora
★★★★★
Mytrucking is a great software addition, it links well with our accounting software, jobs are easy to add and our clients are encouraged to enter their own jobs - they can see themselves where their product is!! I would highly recommend mytrucking.
Christine Morris
★★★★★
MyTrucking scheduling and invoicing has taken our business to the next level using mobile app and desk top systems to operate 16 drivers in the livestock, machinery, fodder and timber transport industry.
George Sayer
★★★★★
very easy system to use and set up,
Peter Morris
★★★★★
We at Morris Transport are one of your very happy proud customers, rating your software and service 10/10.
Glennis Bradley
★★★★☆
This is a very good app, we use it for both freight and contracting
mark HBtow
★★★★★
Great software, lost without it.
Sharna Faravoni
★★★★★
We've been using MyTrucking since April 2022. We would be lost without it. We use it for fertiliser spreading jobs as well as freight jobs. And being able to send jobs to Xero to generate an invoice has made life easier for our admin staff. An app we would highly recommend.
peter ceklawi
★★★★★
MyTrucking is the BEST Transport booking program we have ever used. After trying 6 other programs previously, MyTrucking was hands down the Winner. Easy to use, very time efficient and a breeze for drivers to control what their doing and where their going on the APP. Adding pictures and signitures to confirm deliveries from the drivers APP is a huge bonus too. Saved us so much time invoicing as well. 100% a must for any Transport / Logistics companies. GET IT & thank me later.
Jennifer Langman
★★★★★
Great App. Makes our logistics and document control a lot easier and faster. Less time spent on phone calls and we can get our invoicing out earlier and send reports with just a click.Langman's Transport & Grain Storage. Mathoura NSW
Raelene Neal
★★★★★
My Trucking has simplified the process of allocating work to drivers. Its an easy way for Subcontractors to get paper work back quickly and efficiently. We wouldn't be with out it
Lochie's-South North Adventure Skiing
★★★★★
We started using mytrucking around 4 years ago at R&R and have never looked back
Alan Butko
★★★★★
My Trucking, easy, simple and efficient for allocating all your transport needs. Best move we've done
Leanne Brown
★★★★★
willie cotton
★★★★★
User friendly, send customers report that same day, no matter how big the job is.If you come up with any problems with My Trucking the response is very quick, and sorted instantly.Most important, if you want more family time, I suggest stop browsing and use My Trucking Ltd, works from home.
Lina Castles
★★★★★
My Trucking are leaders in technology for truckers!It is simple, it is clear and it has changed our lives - it is so simple EVERYONE can use it. Thanks so much My Trucking
Joanne Ford
★★★★★
I love MyTrucking it makes is so easy for myself and the drivers to use and saves me so much time at the end of each month and so easy to give reports whenever I want to to customers.
Joleane Curin
★★★★★
Sean Taiaroa
★★★★★
Easy to use ,easy to put jobs in and easy for drivers to access jobs.If you need to add anything really easy to.
Redman Transport
★★★★★
Very easy system to use & economically viable. My clients have been very happy with their POD's over other company options
Nadine Bell - OD Transport Services Ltd
★★★★★
Loving using MyTrucking. Easy to use, seamless intergration with Xero, thanks for giving me my evening and weekends back!
David Rogers
★★★★★
We have been using MyTrucking for 5 years and love how easy the program is to use. Sara, Sam and all the staff are great to talk to and respond quickly to assist with any problems. Importing data to quickbooks is fantastic and many report options available. Highly recommend the MyTrucking program!
george
★★★★★
Mytrucking was recommended to me by a friend and I just wished the recommendation came a few years ago. It's been an absolute gamechanger, the software is intuitive, the ongoing support is great and it has cut down the data entry aspect so we can focus on other areas of the business.
Mike Trainor
★★★★★
I have been using My Trucking for well over a year now and have found with my work flow it is brilliant. From booking jobs to invoicing, reporting etc. If you are not using it you're missing out.