Understanding the ROI of a Transport Management System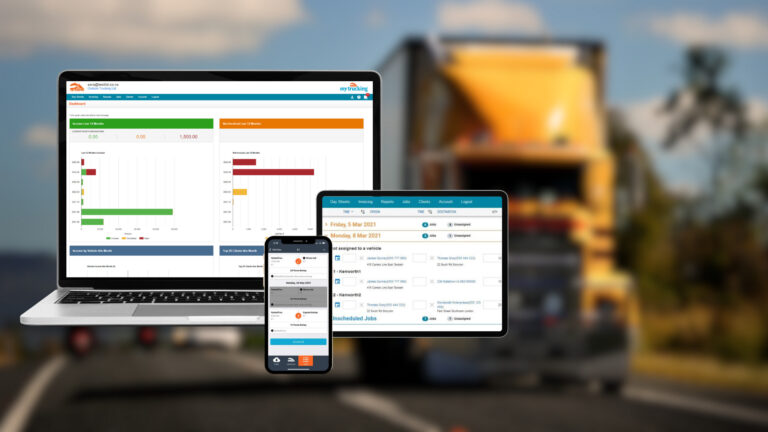 Transportation Management System (TMS): Delivering Significant Value to Companies
Transport Management Systems (TMS) are well-known in the haulage industry for delivering value to businesses that move freight from one point to another.
Industry studies and first-hand accounts point to companies saving money and streamlining operations by implementing a cloud-based TMS. So much so that the TMS is no longer a "nice-to-have" but rather a "must-have" for increasing visibility and managing a fleet.
In a 2016 report, Ohio State University Logistics Professor Jim Hendrickson looked into the value that various technologies provide. The report compared the TMS with other industry tools by interviewing retailers, manufacturers, wholesalers, supply chain service providers and consultants. Hendrickson discovered that the TMS had one of the lowest break-even points. More than 40% of respondents broke even within 6 to 12 months, and a further 25% were able to break even within 18 months. This is great news for small businesses where the speed of return on investment (ROI) plays such a crucial role in the decision-making process.
Importance Of Seeing A Return On Investment Of A TMS
Along with overcoming challenges to transport system methods of the past, the majority of which were manual processes, the main reason businesses are adopting TMS technology is the high return on investment. In the transportation industry, the tools we use need to be easy to use, effective and most importantly, worth the initial outlay. 
It's this ROI that the Arc Advisory Group reported driving the adoption of digital transport management systems, "…a transportation management system helps companies efficiently, reliably, and cost-effectively move freight from origin to destination. Failure to transfer goods to and from a destination on time can lead to significant losses in revenues, as well as customers." 
According to a report commissioned by American TMS provider, Gartner, the average end-user can expect to save 5-15% of their annual freight costs. But, while this is a helpful figure to consider, calculating transportation ROI is actually much more complex. 
Because transportation ROI is made up of both quantifiable and non-quantifiable elements, two main factors should be considered when calculating ROI: the scope of the TMS and its cost. This ensures that both the cost of the solution and the productivity gained from the TMS are taken into account.
Quantifiable Elements Of Measuring A TMS's ROI
Quantifiable ROIs are the main feature you think of when deciding whether to invest in a new tool for your business. Transport revenue benefits like reduction in fuel or improved vehicle capacities can be identified, targeted and measured – which is why they're so easy to understand. Each of the below elements can be tracked when you switch from manual transport management to a cloud-based platform.
If you know which trucking KPIs you should be tracking, the results will speak for themselves.
Lower costs and greater operational performance The most impactful change to your transport management revenue comes from lower operating costs and improved performance. These results come from the insight you gain from better fleet management.
Better execution visibility
Just because it's the way you've always done it doesn't mean it's the most cost-effective choice. With better visibility over the impacts of your decisions, you can pivot and try new solutions.
Improved end-to-end order and process management
No more missing paperwork or jobs that don't get invoiced – with a TMS, you can ensure that every billable cent is on-record and accounted for.
Efficient resource utilisation
Make the most of your fleet with software that keeps track of each vehicle's location, route and capacity at any point in time.
Successful logistics and fulfilment processes
TMS route planning ensures your logistics run as smoothly as your fleet's engines. Fulfil more orders more efficiently than ever before.
Qualitative Elements Of Measuring A TMS's ROI
Unlike measurable (quantifiable) transport ROI, the qualitative benefits of a TMS are less evident at first glance. However, they're just as important. 
For example, with a digital TMS, your customers will have better visibility of their collection and delivery schedules. This feature automatically improves the customer service you offer, and it may result in word-of-mouth bringing you more business in the future or may simply mean that your customers are more loyal to you. Whatever the outcome, the benefit might not be measurable, but it's no less impactful on your business. 
Here are a few ROI transportation metrics that can't be assigned a financial value.
Order Management
Improve the efficiency of your order and process management with better demand visibility. A TMS manages your shipment and logistics data for better analysis and planning.
Learn more about order management, such as top tips to eliminate dispatching errors.
Transportation process planning
Utilise your resources better with optimised, consolidated transportation planning. The TMS suggests ideal routes and allows you to make changes easily, dragging and dropping at the click of a button.
Execution
A cloud-based TMS can assist you in executing logistics more quickly, dynamically, and responsively. Collaborate better with your drivers and streamline your processes for more effective execution on every project.
Freight Settlement
A transport management system introduces more clarity into the planning process, giving you more control over invoices and expenses. Integrating your TMS with your billing software will improve invoice accuracy and increase the number of invoices paid on time.
What To Consider When Calculating TMS ROI?
Calculating your transport management revenue and TMS ROI isn't straightforward as qualitative and quantitative factors impact both. For this reason, we suggest looking at scope and cost when analysing what benefits you're likely to experience from your new software.
Scope of TMS
For your TMS to be successful, it must have a well-defined scope. To do so, you'll need to answer a few questions, particularly about how you plan to use the TMS in the future.
Consider, for example, how complex your routes and network are likely to be. Will you predominantly remain local, or do you hope to expand into new areas? Can your chosen TMS keep up the pace?
Cost of TMS
Once you have defined the scope of how you want to use your transport management system, you can begin comparing TMS providers to find one that meets your needs. Not only should you look for a vendor with a transparent pricing structure, but you should also look for a user-friendly design to help prevent unexpected "consultancy" costs.
MyTrucking: A Simple Yet Powerful Transport Management Software
Selecting the best TMS for your business is the first step to achieving a quick ROI, as not all transport management solutions are created equal. Including all the features of a good Transport Management System, MyTrucking revolutionises the way you work, from logging jobs to route planning, auto-pricing to reporting and more. 
Get in touch and start your 14-Day FREE Trial today.
External Links
For more information on the topics covered, go to;