Transportation Management Systems:
An Overview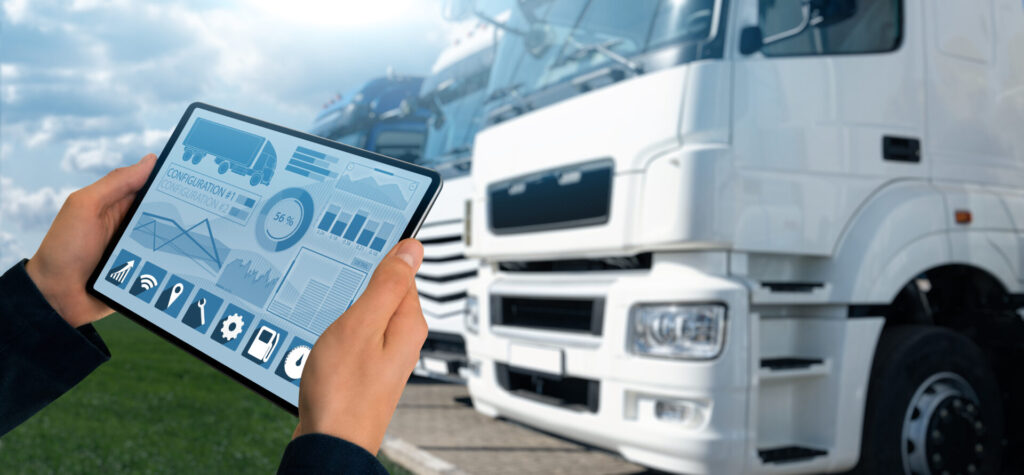 Transportation Management Systems: An Overview
A transportation management system, or TMS, is software designed to streamline haulage and supply chain management. From quotations to drivers logs, tracking and invoicing, a TMS allows businesses to ditch the diary and spreadsheets, automating the process to save time and money. 
Used by multi-national distribution companies and small trucking firms alike, transport management systems can revolutionise the way you do business. But, it's not one-size-fits-all. In our experience, the transport management solutions designed to appeal to the big US corporates aren't much use to smaller, often family-run businesses on this side of the pond. That's why we created MyTrucking, to offer a simple, easy-to-use transport management system that does exactly what it says on the tin (and a bit extra too).
Advantages Of A Transportation Management System For A Supply Chain Business
Running a business is no walk in the park, but a transport management solution can streamline the tasks that slow you down and provide valuable insight. Here are just a few of the advantages that a TMS can offer haulage businesses throughout New Zealand and Australia.
Simplifies processes
A TMS simplifies all stages of the journey. From touch-and-go features that allow you to accurately add a new job in seconds to better logistics planning. With all present and past jobs saved in one place, you can even revisit past deliveries to help you match new orders to the most appropriate vehicle in your fleet.
Helps in accurate and real-time freight tracking
With accurate, real-time tracking, you can improve customer experience with TMS software. With more information in your hands, you can keep an eye on your fleet and identify unforeseen delays as they occur, notifying your customers of the new ETA. 
Provides in-depth insights and reporting capabilities
Dedicated reporting features help you spot weaknesses and opportunities in the way you do business. A TMS can answer all your questions, from average driving speed to total livestock transported.
Offers technological capabilities
Use modern technology to help you make routing decisions based on transit times, carrier mix and historical data. No more time wasted flicking between multiple systems.
Improves shipping speed
Optimisation in the supply chain is all about transporting goods as efficiently as possible. With access to more information than ever before, it's easy to improve shipping speed with Transport Management System reporting.
Five Common Challenges Of A Transport Management System
A manual transport management system comes with many challenges, not least of which is keeping everything in order. Below, we discuss some of the biggest hurdles facing fleet managers who use traditional pen and paper systems before exploring how TMS software can help.
Inability to effectively manage routes
Inefficient route planning can impact your delivery times and lead to higher costs for your business. One vehicle forced to idle in standstill traffic can have a knock-on effect, slowing down your entire operation. 
Higher cost of transportation
Inefficient planning costs you money in more ways than one. Not only is there the increased fuel cost, but longer drive times can mean less capacity for deliveries, more wear and tear and higher vehicle maintenance costs.
Not having a clear project plan
Using manual transport management solutions, you can only see what's in front of you, be it a work diary or a spreadsheet. This makes it much more challenging to plan your next steps and determine where the business is heading.
Not optimally utilising vehicles' capacity
Traditional methods of transport management use good old-fashioned maths to work out vehicle capacity and whether more than one job can be assigned to a vehicle. This works fine most of the time, but there's always the occasional slip-up. Wouldn't it be nice to let your laptop automatically do the calculations for you?
Unexpected challenges like Coronavirus and labour shortages
Let's face it, sometimes the biggest challenges in any business are those we simply can't plan for. From long-term events like Coronavirus to accidents on the road, there's no magic wand that offers certainty. However, TMS software can offer the flexibility to think on your feet.
By understanding what trucking KPIs you should be tracking and selecting the best TMS for your business, you can avoid most, if not all, of these common pitfalls.
Overcome Common TMS Challenges With These Solutions
Managed transportation solutions help you overcome all the most common challenges experienced with a manual system. Combining all aspects of your business into one easy-to-use tool, TMS software simplifies operations and gives you more insight than ever before. Here are a few ways a TMS platform like MyTrucking can help.
Maintaining complete transparency with clients
If your office team are tired of screening customer calls wanting updates on their collections or deliveries, a transportation management platform is a must. With tracking links sent to each customer, jobs can be tracked in real-time. As well as answering your clients' most pressing question, it allows them to get on with business, making you the easiest haulage firm to work with.
Enhancing fleet capacity utilisation
Never again run half-empty vehicles unnecessarily. Managed transportation solutions map and track your vehicle, ensuring each is used to the best of its capability. With complete, up-to-date information on a vehicle's capacity, the system will inform you if more collections can be scheduled to better utilise the journey.
Automated solutions for major issues
From accidents to roadworks, don't let your business be held up by issues on the road. A transportation management platform automatically finds the most efficient route for each vehicle, with dynamic route planning for those unexpected events on-route. You can even manually add, remove or change destination information and your drivers will be rerouted in real-time.
Customised reporting dashboards
Prevent your team from getting overwhelmed with customised reporting dashboards tailored to their role within the business. From route planning to invoice creation, TMS software like MyTrucking takes care of the daily running of your business – which includes a vast number of reports and tools. By customising what your team see, they'll have everything they need at their fingertips and nothing they don't.
Cloud-based solution improves flexibility
Cloud-based technology is the present and future of business. It prevents operations from grinding to a halt due to a computer malfunction and allows you and your team to access what you need when you need it.
Drivers can answer a customer's questions on-site, using their phone's current and historical data. And you can keep an eye on things, even when you're away from the office. It doesn't get much more efficient than that.
In Summary…
Businesses throughout New Zealand and Australia are streamlining business and reducing costs with TMS technology. Taking your transport management system and digitising it using MyTrucking puts your business ahead of the competition, removing the majority of obstacles a manual system faces.
Give it a go yourself with a 14-Day FREE Trial. 
External Links
For more information on the topics covered, go to;