We know our customers love the Mobile App, and we're excited to announce this popular MyTrucking feature has had a revamp! This new Mobile App Release is even better, and more intuitive than before.
The new Mobile App is a complete rebuild, based on the latest platform-specific technology. For users this means improved performance and a range of new features to be developed in the future.
Customers enjoy the existing app functionality, so this new version will look and feel very similar to the current app. We've listened to your feedback and have made enhancements to the app!
Mobile App Release – New enhancements 
Individual job accept:

Jobs can be 'accepted' one at a time, allowing drivers to signal jobs that they are performing or selecting next. This is ideal for those drivers who share visibility of a list of jobs, or want to indicate their next activity.

Select whether jobs are sorted by pickup time or by delivery time:

For drivers who have multiple drop-offs, you can now have your jobs displayed in the order specified on the job.

Adjustable text size:

The app will respond to the device settings, allowing drivers to select a size that's easy for them to read.

Multiple image select:

When adding photos to a job from your phone gallery, multiple images can be selected at once. This makes the task quicker and easier.

Queue completed jobs:

Drivers who are working outside of data coverage can now complete jobs. Driver can be 100% confident that, once they are in range again, jobs will automatically be returned.

Time and location data captured in images

: Any images taken by drivers will now have the time and GPS location saved with the image. Information is safely captured and stored, easy to find if you need it again.
Upgrade your app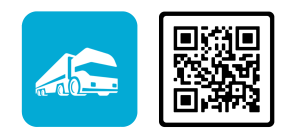 The new MyTrucking mobile app is ready to download, via the App Store – Apple or Google Play – Android.
We want drivers to upgrade to the new app at a time that suits them. We created the new app in a way that it can run at the same time as the old one.
MyTrucking Head of Customer Success, Nikola Berryman, says the new app release is an exciting step forward for customers. "We're always looking for ways to enhance the MyTrucking experience for our customers! The mobile app is a widely-used and popular feature of MyTrucking. This latest app release delivers on our commitment to continuous improvement. It makes sure we deliver the best product we can for users."
Need a hand upgrading the app?
Contact our Support Team at [email protected], or phone 06 929 7900 (New Zealand) and 1800 001 929 (Australia).