Transporting livestock, predominantly cattle, is the focus at Shanahan's Livestock Transport.
As Transport Manager, Kade Ledger focuses on working as part of a team with his colleagues to keep the wheels in motion moving stock from A to B. "This involves organising loads, times, and locations for multiple trucks from pickup to delivery, day and night. It's a real team environment at Shanahan's."
Shanahan's is a family-owned and operated company. They have two depots, one in Wodonga, Victoria, and the second in Toowoomba, Queensland. And regularly transport livestock through New South Wales, Queensland, Victoria, and South Australia, as well as the Northern Territory and Western Australia when needed.
Operating a fleet of 35 B-Doubles, mostly Kenworth 909, they have the capacity to take four-deck and six-deck road trains.
Kade has been in the transport industry for 25 years and has a background as a diesel mechanic. He's been with Shanahan's for eight years, working his way up through the ranks.
"It's a credit to our team, with the support of the boss, Dom Shanahan that makes the company professional. We pride ourselves on being professional about stock movement, from customer service through to animal welfare and scheduling of time slots. Being professional is a key part of the business – we have professional drivers and equipment, late model trucks and trailers. That's across the board with everything we do, it's very streamlined."
The benefits of MyTrucking
The company has been with MyTrucking for about 12 months. "We were doing things the old way, diaries, everything written down. It was time to move with the times of technology and streamline the business into a digital format that was easy to use for everyone."
MyTrucking was on the radar due to its ability to adapt to their specific needs. Kade says MyTrucking has streamlined their invoicing, and is done much quicker than before. Now, invoicing is completed weekly, meaning they are able to move forward and start each new week fresh.
"My role in the business has always been a supporting one, supporting the other managers and the owner. What MyTrucking has done is give us greater transparency – everyone is able to see when a job has been booked, the costings, where it's at.
"With repetitive jobs, we are able to see the client history and make sure we are charging fairly and consistently."
Kade says MyTrucking is user-friendly and adaptable to different load types and configurations, which suits them.
"The support is excellent. There's always someone online or at the end of the phone if you get stuck. It's a good tool for business, especially our business."
FAST FACTS
Favourite truck? Kenworth 909
Favourite trucking route? It would have to be the Newell Highway that connects our two depots, it's a pretty good run
Best place to get a pie? Parker Pies, Rutherglen, in Victoria
Favourite MyTrucking feature? The simplicity of it
Favourite saying/catchphrase? No worries
This MyTrucking success story appeared in the February edition of Owner Driver magazine.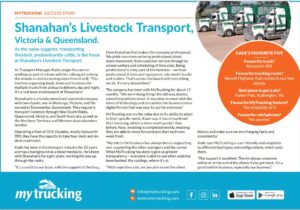 Check out Shanahan Livestock's website