Jarrod Ross knows grain, from the paddock to the silo, and everything in between.
His father set up Ross Bros Transport, based in Ashburton, 35 years ago, and he and wife Sally bought the business from him.
"Dad was from a rural farming background and was always in charge of the trucks and grain movements. When the family went their separate ways he kept the truck and started carting grain for the neighbours, and it all evolved from there," Jarrod explains.
These days, they have five trucks and trailers, carting bulk commodities in the Canterbury region.
As well as carting, they grow their own grain on their 72-hectare property, buying in and selling to dairy farmers. They also do a lot of grain drying and storage, so it's fair to say Jarrod is across all aspects of the grain supply chain.
"We are farming and carting our own product. The carting provides work for the trucks."
Jarrod's role is as managing director, organising the day-to-day dispatching of trucks, as well as jumping behind the wheel when needed.
"We pride ourselves on quality of service. We're not a big corporate – you'll see me, my father or brother Adaam come on to the farm, we're not sitting behind a desk. Being family-owned and operated it's that common touch or personal service."
Ross Bros Transport has been with MyTrucking for about three years and, despite initial scepticism, Jarrod is a true convert.
"I had someone show it (MyTrucking) to me and I thought it wouldn't work for us. Then I had a lightbulb moment and Sam (Orsborn) came to see us to take us through it. I was still dubious, but I could see that my father was still writing accounts on little bits of paper.
"The paper trail was huge, and people would ring up wanting weight dockets and you'd be searching through piles and piles of them – it was doing my head in."
Now, the paper trail is eliminated and all drivers take photos of the weigh docket when it's given to them, which is stored in MyTrucking. If the docket gets misplaced, Jarrod knows exactly where to find it.
"The time we would save by not having to manually work out the cartage and weight docket is huge. You put the rate in and MyTrucking works it all out for you. It's so simple, but the hours saved have been life-changing."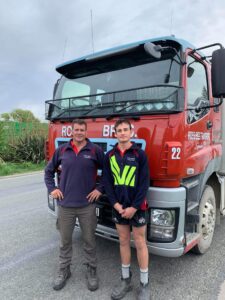 The other thing Jarrod loves is the custom report the software generates that he can email directly to farmers. "In the good old days we'd post the weigh docket off. This report shows exactly what's been carted and the weigh dockets. You can also go back six months and easily find a weigh docket, it's right there on the computer."
Jarrod says using the software was easy to pick up and, now, he's not sure why he didn't think it would work for their business.
He also rates the support he gets. "I deal with Nat and I can ring her direct on her mobile, she always answers and is happy to help, nothing is a problem. If she doesn't answer she always gets back to me within hours."
FAST FAVOURITES
Favourite truck? T Line (wish we had never sold our last one)
Favourite place to get a pie? Sims Bakery in Tinwald
Favourite MyTrucking feature? The custom report
Favourite gearbox? Roadranger all day long – that sorts the real drivers from the Steerers
Favourite way to acknowledge a truckie? Just a good wave, or a flick of the lights. I always say, the only thing that's not delivered by a truck is a baby
Favourite saying or catchphrase? If you're going to kill a pig, it may as well be a big one!
This article appears in NZ Trucking magazine.