Cashflow Tips In Transport Business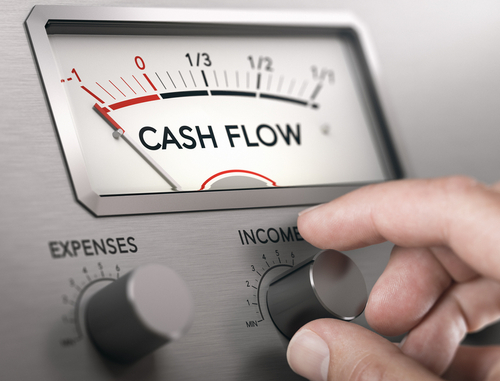 What Is Cash Flow?
In this article, we'll explore cashflow tips in the transport management industry. But first, let's start by explaining what we mean by "cash flow". It goes without saying that it's important to correctly manage your company's finances if you want to stay clear of money trouble.
Cash flow is money that comes in and out of your business over a period of time. Cash inflows are payments made by clients for services or items provided by the company. On the other hand, cash outflows are likely to involve expenses such as wages, leasing, and utilities.
By understanding your cash flow, you can ensure you have enough cash to run your business and boost your revenue. It is an essential component of your company's finances that, if mismanaged, can cause significant problems. So, read on for everything you need to know.
Importance Of Cash Flow Management In Trucking Business
Understanding your company's cash flow will assist you in managing your accounts more efficiently, ensuring you always have sufficient money available to pay your bills and therefore be able to maintain your business. By balancing your inflows and outflows of cash, your company will also be better prepared to weather peaks and troughs in sales, late invoice payments or unexpected expenses.
Managing your cash flow helps to create a safety net, providing vital security for the stability of your company, but it's also a great foundation to allow the business to grow and expand its operations in the future. Once implementing a reliable cash flow management system, as your business grows, your cash flow will grow with it and maintain your company's financial safety.
Is Cash Flow Affected By The Ongoing Trucking Industry Issues?
Over the last few years, the business dynamics for transportation companies have become increasingly complex. Increased market pressure and a growing demand to embrace innovative technology put a strain on lean operations. In addition to this, and making matters worse, the COVID-19 pandemic has significantly influenced working conditions.
These issues have affected the majority of trucking company's cash flow, and couldn't possibly have been predicted. But, with proper planning and cashflow management, your trucking operation can grow and prosper as the country's economy improves.
The trucking industry is known for slow payments and high operating expenses – some things don't change! But for these reasons, financial strategies and funding solutions have been designed specifically for the trucking industry, working to improve your company's cash flow and enhance profitability, like MyTrucking transport management software.
Cash Flow Tips In Transport Management Business
Now that you've seen how vital cash flow is and how the ever-changing transportation industry can majorly disrupt it, let's look at cashflow tips and ways your company can add some stability to your finances.
Better planning of regular expenses
Calculating your costs in advance is made easier by better planning regular expenses. Your company's future costs are calculated according to the average price of the resources you need and the number of kilometres you expect to travel.
Automation and digitisation wherever possible
Automation tells your company what payments need to be made and pays carriers in their preferred form of payment. Implementing strategies like this reduces the time taken by doing this task manually.
Have a good invoice payment process in place
A better payment process may be the perfect next step for your company. The best invoicing practices consist of analysing the timing of your company's payments, their frequency, and your key customers. Your company should also examine how efficient your payment process works while sending its trucking invoices, managing inventory, and how effective your accounts payable team is.
Integrate your systems
Using a transport management system (TMS) that incorporates other services such as a fleet management system (FMS) and Xero integration for invoicing, is a smart move. Being able to run all of your operations through one platform gives more clarity to the daily running of the business.
Reduce unnecessary expenses
The ability to track and examine the different costs of your business efficiently will allow you to identify ways of reducing unnecessary expenses. Strategies such as reducing trucking costs through better fuel management can be implemented more directly with a transport management system.
Maintain a cash flow forecast
One of the most effective ways to resolve cash flow management errors is by creating a cash flow forecast. First, list all your income and expenditure over a certain period, then work out your running cash flow. Maintaining a cash flow forecast will help your company deal with costs such as a broken truck, a string of late payments, or some other unforeseen event.
Effective load planning
Load planning targets reduce the number of vehicles on the road while improving operational efficiency. A reliable software system can calculate the most efficient way of transporting goods, increasing profits through load planning.
Invest In A Transportation Management System For A More Efficient Business
Improvements in how goods are transported is one aspect of a transport management system, but a TMS also helps streamline your business by integrating accounting software for trucking businesses.
Xero is an easy-to-use online accounting software tailored to small businesses. It gives you and your advisors easy access to your bank transactions, invoices, reports & GST anytime you need it, from anywhere in the world. It includes 24/7 secure online access, automatic bank imports, free upgrades, and unlimited users.
At MyTrucking, we offer Xero integration to make it simple to transform completed jobs into invoices, directly from the MyTrucking platform. For MYOB users, we also offer MYOB AccountRight Integration. MYOB AccountRight delivers robust accounting with business management capabilities.
In Summary…
With these cashflow tips managing your company's finances is made effortless with a reliable TMS. It allows you to pull together all aspects of your business to provide a clear view of your operations. Using all the tools available to you, issues like maintaining a healthy cash flow will be a struggle you'll quickly forget.
External Links
For more information on the topics covered, go to;