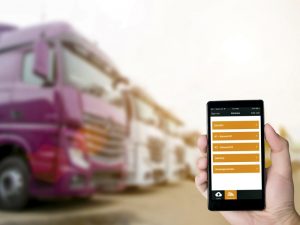 New Zealand's premiere construction and trucking magazine has profiled MyTrucking in their latest publication, showcasing how smart transport businesses are taming (and removing) their paper trail.
If you want to streamline paperwork then this Kiwi-made app could be just the thing for you
Many great business ideas evolve from a simple need. You know that old saying: 'Necessity is the mother of invention'? Such was the case with MyTrucking, launched by Carterton farmers and stock feed business owners, Sara and Sam Orsborn.

When a friend who bought a trucking company approached Sam to help devise a database to streamline his paperwork, Sam, who is a bit of a whizz with these things, got out his whiteboard and drew up a plan.

A basic Access database with a monthly payable fee was created. Not surprisingly, other mates in the industry soon heard about it and wanted in on the action. One thing led to another and a more sophisticated and scalable version was developed.
Check out the rest of the story on Deals on Wheels Feb 2020 edition (issue #321)