Customer Portal
Make it easier for your customers to do business with you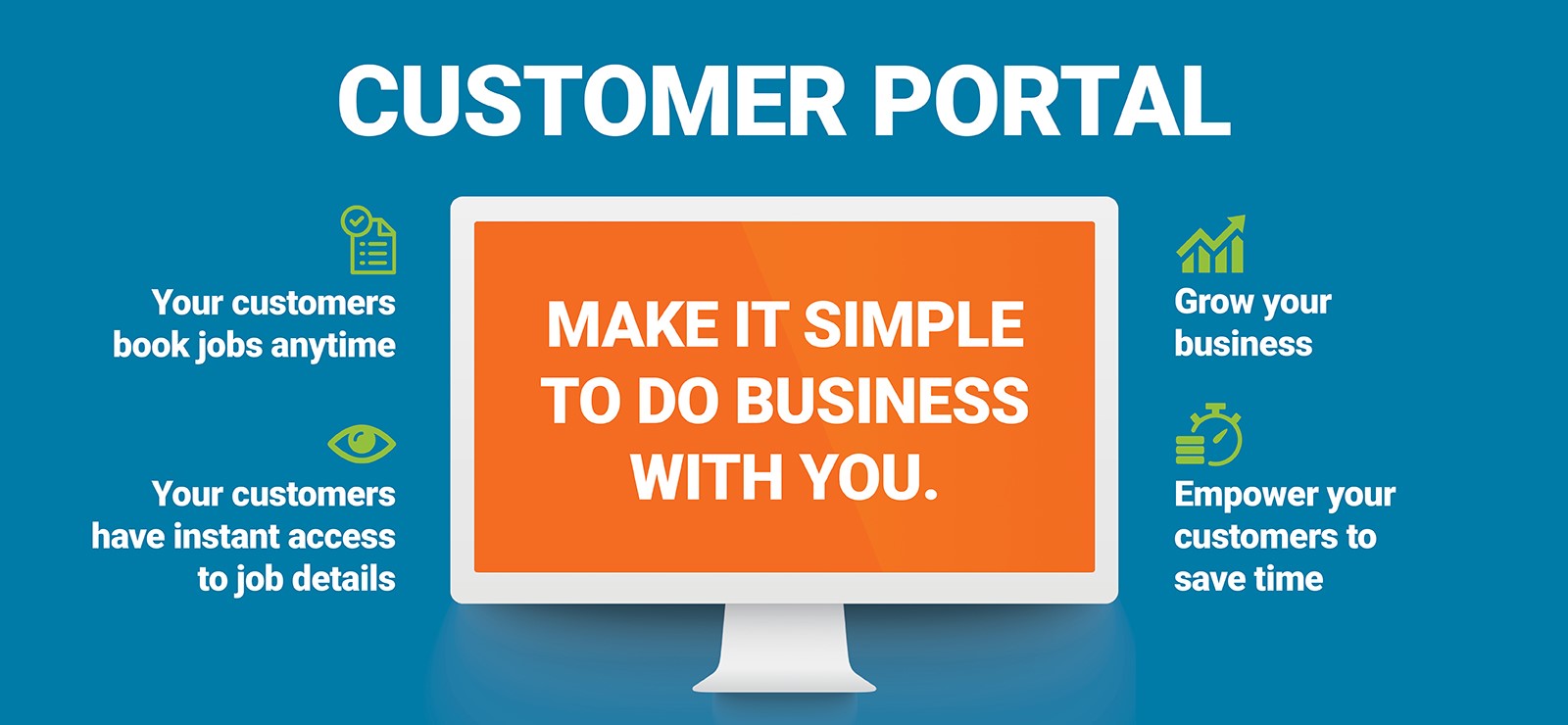 What is Customer Portal?
Customer Portal is an online booking system where your customers can submit a job request to you, anytime, anywhere. It's like your customers have their own mini version of MyTrucking.
It has been designed to save you even more time and money, further reduce mistakes, and help you focus on doing more of the business that you do best – transporting.
You still have complete control of your workflow – you can choose who gets Customer Portal and who doesn't, and which jobs you accept or decline.
How does Customer Portal work?
When your customers submit a job request it will appear in a new 'Review Job Requests' page in MyTrucking

We'll notify you when a new job request arrives

From here you can review, accept, or decline jobs as you see fit – all without leaving MyTrucking

Once you've accepted a job from the Customer Portal it will appear in your daysheet just like any other job, waiting to be assigned a driver and vehicle. Simple! 
Easier for you
Customers enter jobs for you
Save time on data entry
Reduce mistakes
Never miss or lose a job request
No double handling
Easier for your customers
Support your customers better
Easy to do business with you
Your customers submit jobs when it suits them
Give your customers real-time updates on their jobs
Share relevant documents e.g. PODs or dockets
Need more convincing?
Customer Portal is the fastest and easiest way to get your customers' jobs into MyTrucking. No mis-typing, no losing scrappy bits of paper, or trying to decipher a crackly phone line.

Once you've accepted a job via the Customer Portal, your customers will receive instant access to the details of the job that matter to them including, job status, PODs, and other notes that you allow. You won't need to spend any more time on updating customers on the status of their job. They'll know where it's at before you can even pick up the phone.

Customer Portal is great for empowering your customers, while still maintaining control over your workflow. It will also help you retain your best customers, and even gain a few new ones – growing your business.

Best of all, there's no additional charge for Customer Portal. We built this for you and your customers, so you can work better together.
Use it to view jobs only
If you're not sure about letting your customers add jobs via the Customer Portal, simply give them a login and you can continue to add their jobs.

It's a great way to allow your customers to view their jobs and get instant access to the details of the job including PoD, copies of paperwork, and updated tallies as soon as the jobs is done.

Saves you heaps of time on follow-up phone calls and emails.  

Your customers won't see pricing or any other sensitive info – just their jobs.
Get started now
Just like the rest of MyTrucking it's so easy to get started and invite your first customer

Go to your MyTrucking and search for a client you want to invite to the Customer Portal 

Click the Allow Access button, add their email address, and you're done
Check out this short video on Customer Portal
What am I getting?
You are signing up to a 14 day free trial with MyTrucking. This trial account will have all the features of the MyTrucking service without limitation, this way you will get to experience the full power that MyTrucking has to offer. By signing up for a free trial you agree to our terms of use and privacy policy, a credit card is not required.
What is the process from here?
After submitting this form we will set you up with a login to MyTrucking. We will try to call you, as we find a quick 5 min chat to answer any questions you have helps you get the most out of your trial.
What if I get stuck?
Use the in-app chat feature, all support is free, or call us; a quick 5 min chat usually resolves all the questions you have.
What happens at the end of my trial?
At the end of your 14 day free trial you will be asked if you want to continue to use MyTrucking. If you choose not to use MyTrucking your trial account will be removed and you will no longer have access to MyTrucking. A yes response will signal the start of your billing period, you can cancel at anytime without penalty.
© 2022 MyTrucking Ltd. All rights reserved