The month of March has been a busy month for the MyTrucking team. The development team have been working hard on some new & exciting features of which some of these have now been released to all our users.
We have redesigned our main daysheet screen so more jobs can be displayed without scrolling, and we have added some smarts to make it even quicker & eaiser for jobs to be entered. This has been a request from many MyTrucking customers, so we are delighted to release this.
The mobile drivers app has also had an update & includes lots of new features as well. All users have had an email with these updates & there are more coming in the month of April too.
The sales team have been busy with Sara attending the Truck Expo at Mystery Creek in New Zealand, and doing a road trip around the Waikato region. Also at the end of March, Sara & Sam have done a road trip in Australia. They flew into Melbourne & saw a number of new & existing clients spread from Melbourne to Dubbo. They then attended the NSW Livestock & Bulk carriers conference held in Dubbo on the 31st of March & 1st April. A great conference it was. Such great people at these events!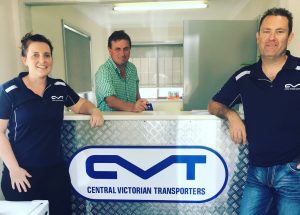 Central Victorian Transports from Maryborough in Victoria, Australia. MyTrucking & Xero.